What is the Analytics Tool and how do I use it?
The Analytics Tool provides athletes and coaches with a comprehensive view into race day performance by allowing them to upload ride files and analyze their performance. We store segmented data, making it easy to update your analysis and refine model settings for future race planning. Analytics will currently provide our Time Analysis what-if simulation functionality, estimate aerodynamic drag factors and allow athletes to update their settings, highlight Variability Index tendencies over time, provide zoomable standard metric calculations and give insight into performance factors by gradient breakdown. Over time we will add race type specific features for Road, MTB, and Gravel race types.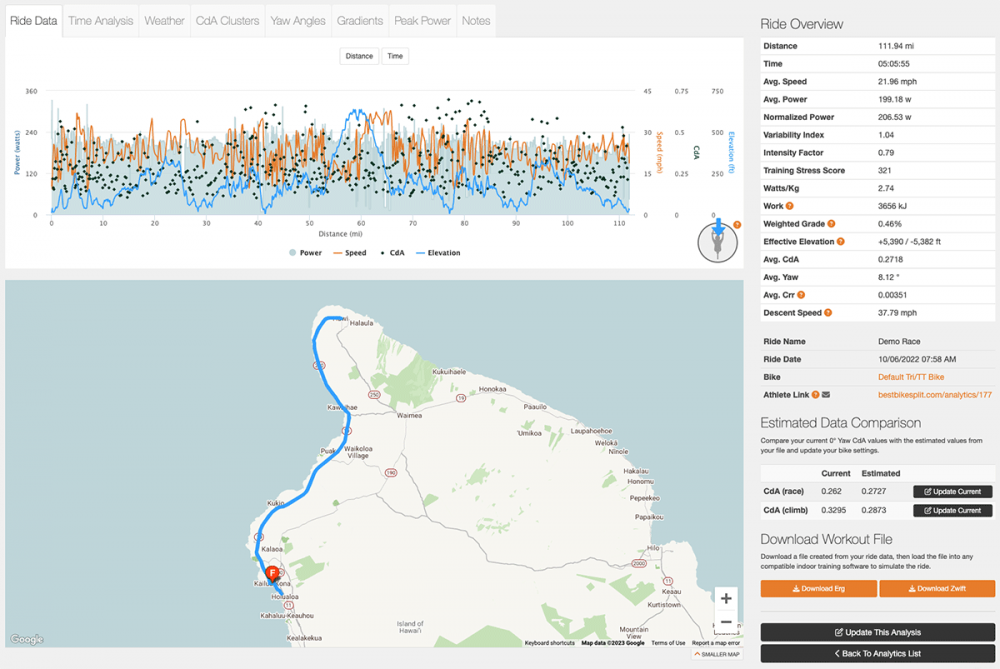 The tool uses a similar setup to BBS race plans so we do require some knowledge of the course to help refine the analysis and drag estimates. To start analyzing ride data follow these steps:

Using the drop-down menus, select the bike used, road conditions, and the terrain


Make sure the bike profile selected is set up to the same specs (especially fully loaded weight) as that of your actual ride


Optionally select whether to use corrected elevation


Defaults to non-corrected elevation data


Choose to use historical weather from our weather service or input your own known conditions


When using manual pressure, make sure it's adjusted to sea level equivalent standard


Select a ride file that has at a minimum latitude, longitude, speed and power


If you are using a file from a Velodrome, you can select Velodrome for course terrain and latitude and longitude data will not be required.


Click the Analyze Ride button


Review the data


If you are looking for CDA analysis, you can Update your bike's CdA values


If the data looks accurate, you can apply the Estimated CdA values to your specific BBS bike setup by clicking the "Update Current" button under Estimated Data Comparison for one or both of the racing CdA and Climbing/Relaxed CdA values.

Note: If data seems inconsistent, please see our case study on the Aero Analyzer.